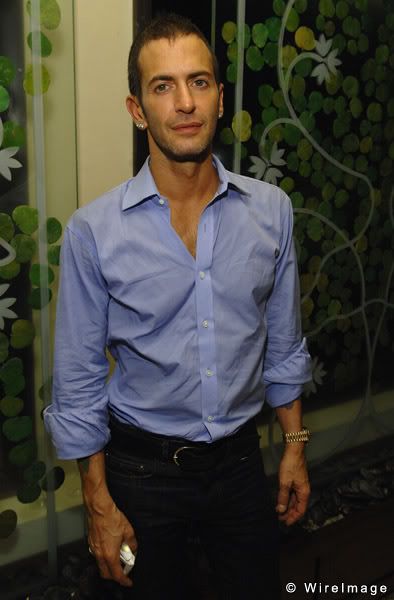 I love Marc Jacobs. I always have. The first MJ bag I ever laid eyes on was a white leather Stella on eluxury.com. I was smitten. My poor mom listened to many a dinner table discourse on that bag. Right before Christmas that year, she happened upon some unexpected cash. Rather than replace the ancient, dying, oil heater in our basement, she bought the Stella bag, knowing I'd treasure it always (and never, ever forget such a selfless gesture. I so heart my mom.). I think I cried Christmas morning.
I came close to tears the first time I went to the Marc Jacobs boutique on Mercer Street and held a pair of pastel suede ballet flats. I was knee-deep in Footwear Design classes at FIT at the time, and so I instantly appreciated the beauty and craftsmanship of the exquisite, delicate shoe in my hand. They were utter perfection.
Through interviews, Myspace photo albums, and the Marc Jacobs and Louis Vuitton documentary, I've come to love Marc the
person,
as much as the designer. His interview in the May issue of GQ brought my adoration to a new high, particularly a quote which so perfectly echoes the sentiment of most of my Catholic school experience: "When I went to sleepaway camp, I just kind of wanted to sit there and make an ashtray or do a lanyard necklace or paint my jeans," he says. "And then to stand there and not be chosen for a baseball team-it's like, force me to do something and then don't choose me to do it. Okay, what am I supposed to enjoy about that process? How am I supposed to feel good about myself with all that going on?"
Nerd love, Marc. <3
photo: WireImage