I've had a long-running love affair with those Mead marble composition books ever since I left FIT.* For years, I've compiled magazine clippings into these "fashion scrapbooks". Anything and everything that catches my eye goes in: a handbag, a shoe, a pant, a blurb about a designer, ANYTHING. In the beginning, it was die-hard, fashion
only.
As I'm getting older and a little more domesticated, the content of my notebooks follows: a teapot, a recipe, eco-safe cleaning products. It's kind of like utopian, make-believe magazine editing. None of my coworkers seem to enjoy or understand my compulsion (I mean, we work at a huge ophthalmology practice. New scrubs are exciting here!), so after weeks of obsessively checking (and reading full archives of) other peoples' fashion blogs which I've just discovered (I'm in love with Rumi, of Fashion Toast, Lulu, of Everybody is Ugly, and Agathe, of StyleBytes), I decided my logical next step was to take to the blogosphere.
*Like, SIX years ago. And by 'left' I mean 'was academically dismissed from'. That's right, too cool for school. In my defense, as an Accessories Design major, I wholeheartedly considered it research to skip class for a trip to Marc Jacobs. I guess the dean never heard of "Independent Study?"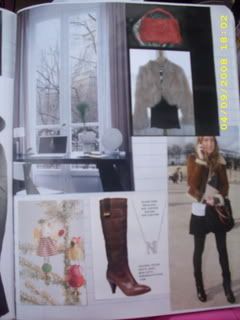 [Pardon the crappy photos of pages from my books. I'm in negotiations with my mom to move her scanner to my place. ]